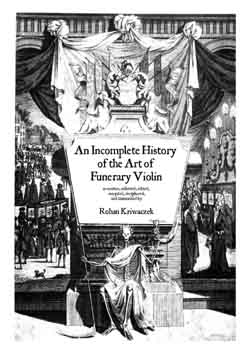 Wilhelm Kleinbach -The last of the practising Funerary Violinists
Born in 1830, in the outskirts of Vienna, to a family of cabinet makers, Wilhelm Kleinbach was to be the last of the notable Funerary Violinists. A grand-student of Herr Gratchenfleiss himself, he had taken up the profession just as the Great Funerary Purges of the Catholic Church were destroying it, and continued the practice in secret into the early 20th century, through an underground network of dedicated followers of the art. Often performing in the dead of night at Vienna's Zentralfriedhof, before a select gathering of cognoscenti assembled to hear his performance, and who often hadn't known the deceased, Kleinbach developed an international reputation amongst the handful of individuals still taking an interest in this most mortal of art forms.  Scholarship has revealed very few specific details about his life, but some accounts of these moonlit vigils, performing the works of Herr Gratchenfleiss to the dead, have survived.
Wilhelm Kleinbach was a student of Thomas Techler, who was, in turn, Gratchenfleiss' favourite, making Kleinbach a direct link to the great masters of Funerary Violin. Though entirely forgotten for many years after his death, His position in history was forever assured thanks to a series of wax cylinders he recorded at the very end of his life. That these recordings exist at all is something of a miracle, given that they are the result of a fortunate coincidence. Karl Weinfurter, a young gentleman of leisure who lived two doors down from Kleinbach, in a middle class suburb of Hamburg (to which Kleinbach had moved after an unfortunate incident during one of his performances, resulting in his expulsion from Vienna in 1881) acquired an acoustic recording device using wax cylinders (and later a system for transfer to 78 rpm disks) and, upon hearing Kleinbach practising, suggested that he might use him to test out his new equipment. It can be heard from the recordings that he did many experiments with different acoustics, and sizes and materials for the horn, with mixed results.  The recordings were made between 1906 and 1911 (judging by the original cylinders) when Kleinbach was in his late 70s and early 80s. Though the intonation is at times a little shaky, the power and intensity of his playing is clearly still evident. 
It was not until 1990, seven years after the discovery of the Hildesheim trunk, that scholars identified these previously unknown pieces, (located in the music library of the Hamburg Institute for Social Research) as the works of Herr Gratchenfleiss. So far fifteen of the pieces have been deciphered from the rotting pages of the notebooks, and twelve of Kleinbach's recordings match these works. In some cases his recordings are different to the written versions, with changes in structure and octave, and occasional variations –possibly due to his deteriorating technique, or the constraints of working to a two or four minute wax cylinder. Given the notebooks current state of preservation, it is impossible to say how many more works will be uncovered before their complete disintegration. There are another twenty cylinders and 4 disks in the collection that do not correspond to any known works at present and so have not been included in this compilation. The entire collection was recently acquired by the Guild of Funerary Violinists, and is currently being subjected to further study. 
extracts:
To purchase a copy signed by Rohan Kriwaczek, author and Acting President of the Guild of Funerary Violinists, and stamped with the official Guild of Funerary Violinists stamp for only £24, plus £1 postage worldwide, click below