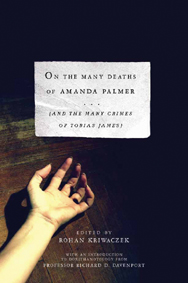 On the Many Deaths of Amanda Palmer - and the Many Crimes of Tobias James
Following the death of indie pop-star Amanda Palmer her fans and followers began posting anonymous texts on internet blogs and in chat-rooms, taking the form of stories, poems, essays, stream-of-consciousness explorations, each attempting in their own way to attribute her death with some meaning through art. Over time these writings, and the responses they generated, began to exhibit specific shared qualities that marked them out as a unique genre in their own right, a genre that has come to be known as the Palmeresque.

This book originally set out to be the first major study of the Palmeresque, however shortly after initial publication all copies of the book were seized by the Boston Police Department due to the incriminating content of Text Number Nine. The following investigation revealed a complex web of deceit, manipulation and literary fraud that once again raised the questions: who did kill Amanda Palmer; who were the real authors of the texts; who is Tobias James? Finally, and under strict restrictions, permission has been given for this amended edition to be published, together with an extensive appendix exploring these and other issues.
"Through a fascinating series of essays, stories, fairy tales, poems, introductions and appendices Kriwaczek explores issues of authorship, celebrity, popular culture, marketing strategies and the culminating steady corruption of art in contemporary culture, all in a wildly exuberant, imaginative and entertaining manner. Another sure fire winner from the author of An Incomplete History of the Art of Funerary Violin" – the Guild of Funerary Violinists Quarterly Newsletter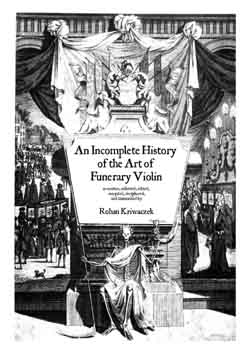 An Incomplete History of the Art of Funerary Violin
It is only by staring Death in the face that you can truly say you have known Life; it is only by losing that which you hold most dear that you can truly say you have known Love; such is the Art of the Funerary Violinist.

From its origins in the Elizabethan Protestant Reformation, to its final extinction amidst the guns of the First World War, the art of Funerary Violin was characterized by many unique and frequently misunderstood qualities that set it apart from all other forms of music. Despite its enormous influence on classical music generally and on the Romantic Movement in particular, this music has almost entirely vanished. In a series of 'funerary purges', the art of funerary violin was condemned as 'the music of the devil' and the Guild of Funerary Violinists driven into silence or clandestine activity. This is the music that, despite all attempts at suppression, has haunted Europe's collective unconscious for more than a century. Now Rohan Kriwaczek reveals its incredible history. Painstakingly pieced together from a handful of fragments and unsubstantiated and frequently unspoken rumours, and making use of a number of extraordinary recent discoveries, An Incomplete History of the Art of Funerary Violin celebrates a unique musical tradition that refuses to die.

'The Art of the Funerary Violin is a fascinating work in its own right, an unorthodox alternative history novel filled with left-field characters and quirky details.' - Sydney Morning Herald

'This truly is a bizarre book' – The New Statesman

'In seinen besten momenten streift dieses scurrile und sehr britische Buch den Humor von Sternes "Tristrum Shandy" oder Boswells "Dr. Johnson".' - Frankfurter Allgemeine Zeitung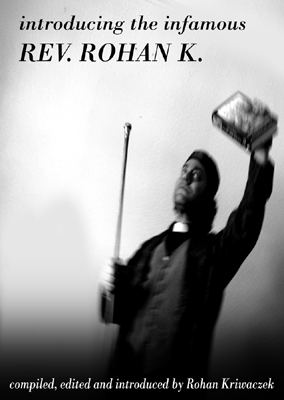 Introducing the Infamous Reverend Rohan K.

selected verses on "Life, love, death, god and other arseholes" adapted from the theatrical works of the Rev. Rohan K.
I only met the Rev. Rohan K. on three occasions, but to say that they were memorable would be something of an understatement... So begins Rohan Kriwaczek's introduction to the Rev. Rohan K., possibly the most unconventional, and certainly the most arrogant and and deliberately offensive poet of the early 21st century. In life he was boisterous, loud, obnoxious, unreliable and frequently drunk, though he did occassionally reveal a more thoughtful side; in his works, and particularly his llive performances, he became a monster, spitting and drooling, wilfully condemning anyone who took the time to listen.
Rohan Kriwaczek's colourful reminiscences of this extraordinary and peculiar man are upstaged only by the works themselves, selected and edited from a large collection bequeathed to him by the Reverend shortly before his disappearance in July 2008. He is thought to be currently living in Peru.