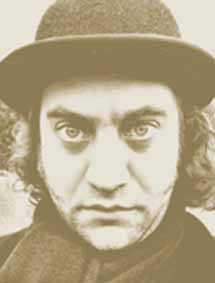 Long regarded as England's foremost authority on the history and practice of Funerary Violin, Rohan Kriwaczek graduated first from the University of Sussex in 1972, and then from the Royal Academy of Music in 1974 with an Advanced Diploma in violin performance. Following a number of successful tours of Britain and Europe as a violinist, he became involved with the Guild of Funerary Violinists in 1975, and after much active scholarship researching their archives, was elected Acting Secretary in 1982, and then Acting President in 2000. Over the last 30 years he has dedicated his academic life entirely to the fervent study and recreation of the lost history of Funerary Violin, presenting lectures and workshops all around Europe, and writing a number of books on the subject, recognised today as the standard works for all students of Funerary Violin.
As a Funerary Violinist himself, he was instrumental in establishing concert series in cemeteries in a number of major European cities and has been given many honours, including the Lifetime Achievement Award from the International Federation of Funeral Directors (2004).
He has, over the years, held many posts at Universities and Colleges, but, since 1999 has dedicated himself exclusively to the promotion, study, and performance of Funerary Violin, and his official duties as Acting President of the Guild of Funerary Violinists.